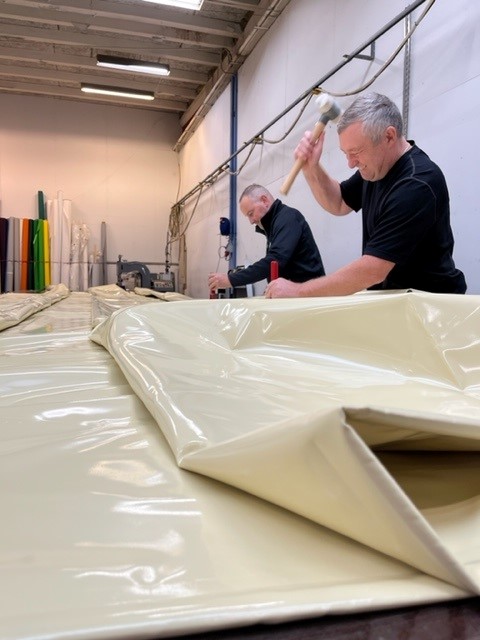 Over 50 years of experience from the industry in our own shop
West Presenning ApS was established back in 1951 as a saddle making company and subsequently became continued to be run by the 2nd generation, Jørn West, who in September 2021 sold the company to current owner and director Søren Lund, who has worked as an independent master carpenter for many years.

West Presenning today offers more than 50 years of combined industry experience in its own workshop, where All types of tarpaulins are produced by DK's most experienced and service-minded workshop team. We are proud suppliers to e.g. the transport, industrial, pharmaceutical, agricultural and construction industry in DK, where we manufacture according to specialist needs and solutions.
West Presenning Eftf. ApS continues to carry a proud vision of producing products of the highest quality for every purpose
with focus being an attractive workplace with the right mental attitude and view of people
the employees feel valued and everyone thus contributes to bringing well-being to the top.
The future vision for West Presenning Eftf. ApS is to hire more employees for it still
increasing demand for tarpaulin solutions, which our skilled workshop team handles. A different future vision for West Tarsenning Eftf. ApS is that the boat industry will become a larger part of our customer segment.
This is what some of our business partners says about us
"Accommodating and solution-oriented on special tasks. Good work and very good quality of the final product, which will last for many years. The work was finished before the agreed time".
på det endelige produkt, som holder i mange år.
Arbejdet var færdigt før aftalt tid.
For many years, West PresenningEftf. ApS has been a good and valued supplier to Westrup. West Presenning delivers tailormade solutions for our industrial machines in the highest quality and according to very specific drawings. There is always great flexibility and solutions are thought of, e.g. if delivery problems of one kind or another arise.
"West Presenning does a really good job, focuses on us as a customer and our needs. West tarpaulin delivers good quality and delivers on time - which is important to us as we have a production that depends on sub-suppliers delivering on time".
"We always deliver a good piece of work, at the agreed time and price. We always experience a positive approach when our drivers come by".
West Presenning has been around since the 1950s and offers a total of more than 50 years of experience from the industry in our workshop. 
Our employees are dedicated and professional, and always ready to help you with your specific task.
Call Us at this phone number: +45 57 67 40 57 or find your direct contact here
West Presenning Eftf. ApS covers every need. We cover the goods to be transported forward, we covers the harvest before it is in the house and we cover the wedding guests when the weather is capricious.
We use our many years of experience to meet and manufacture according to the customer's wishes so that the finished product becomes a durable and safe solution.
West Presenning Eftf. ApS offers measurement, repair and assembly at the customer's premises and provides sales of cover and container tarpaulin/net etc. on ready-made measurements.
No task is too small and no task is too big. All tasks are carried out to order and with the best craftsmanship traditions. Special requests for color, dimensions and design are met by our skilled workshop team.
We can decorate your tarpaulin with all kinds of logos using the latest techniques.